HEALTH AND WELL-BEING, WE'RE AS PROACTIVE ABOUT YOUR STEPS AS YOU ARE.
We know that when it comes to your day-to-day, you're not just mindful of what it takes to be healthy—you're taking the positive steps you need to stay healthy.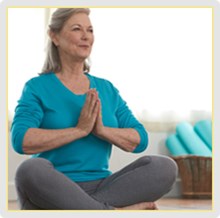 That's why we're proud to offer you the resources and 24/7 support—from wellness programs and care management to cost calculators, useful provider directories, and enrollment guidance—that will help make those steps even easier. 
Learn about our services below to make the most of your plan.
AvMed Medicare is an HMO plan with a Medicare contract. Enrollment in AvMed Medicare depends on contract renewal.
Address: 9400 S. Dadeland Blvd. Miami, FL 33156

Prospective Members: 888-492-8633 (TTY 711)
Current Members: 800-782-8633 (TTY 711)
October 1–March 31, 8 am-8 pm, 7 days a week.
April 1–September 30, 8 am-8 pm, Monday-Friday, Saturday 9 am-1 pm.
H1016_AD1154-102021_2022. Last updated October 10, 2021.