GIVING BACK. PAYING IT FORWARD. WHATEVER YOU CALL IT, WE CALL IT OUR COMMITMENT
Every single AvMed Associate is as Floridian as every single AvMed Member.

We all live here. We all work here. We all raise our families here.

Naturally, AvMed Associates want to make the communities we share the best they can be.

We join Feeding South Florida to spread fresh fruits and vegetables across the region each month with AvMed Mobile Pantry. We coordinate outreach with organizations such as the American Heart Association, the American Diabetes Association and United Way.

We're not just stating our mission of helping our Members live healthier. We're out there doing whatever we can to make it happen, right along with them.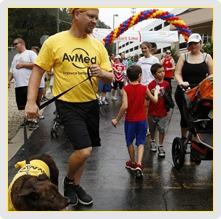 Backed by our not-for-profit, mission-driven values, AvMed joins parent company SantaFe HealthCare and its affiliates in supporting health and wellness-related causes in each community we serve.

Recipients must be a Florida-based 501 (C) (3) organization based in a community served by an affiliate of SantaFe HealthCare. AvMed will consider requests for disease-specific events and walks, health fairs and health-related outreach activities, foundation support, recognition, fundraising events, educational and scholarship support.

Please direct all 501c(3) sponsorship requests to Jaime Alfaro, Jaime.Alfaro@AvMed.org.